Emergency Services
Fire Department
Fire Department Services strives to ensure a safe community for our residents. The Department is responsible for providing Fire Protection and Prevention Services and Emergency Management to our community.
The Fire Chief is responsible for the overall operation of the Fire Department. The Department works with the Office of the Fire Marshall and is compliant with Emergency Management Ontario regulations.
Contact:
Matt Simon
Fire Chief
705-849-2213 ext. 202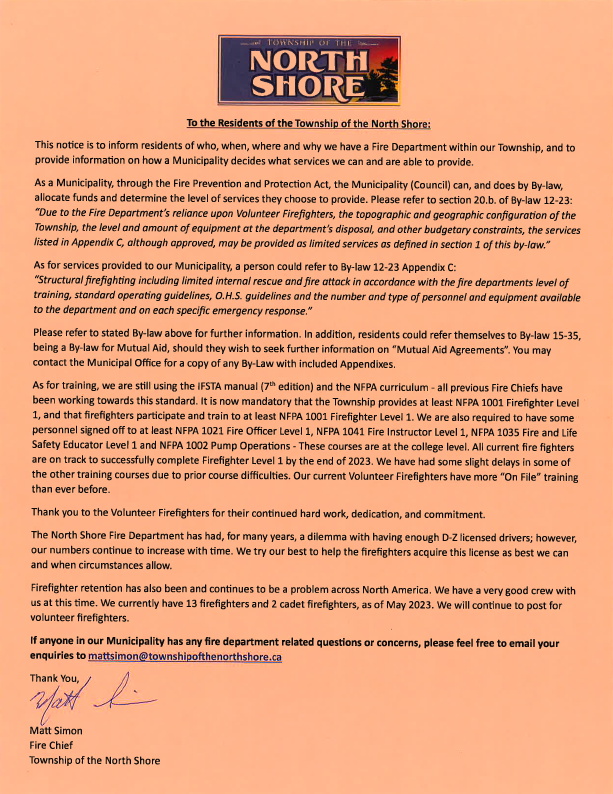 Fire Safety
Mission Statement:
The Township of the North Shore Fire Department's mission is to save lives and protect property from fire and other emergencies within the Township of the North Shore through public education, fire code enforcement and incident response.
Services
The Township has two fire stations with one at the Municipal Office and the other is in Serpent River. The Fire Department has two pumpers, one tanker and a rescue truck. Currently the Fire Department has a complement of fifteen (15) volunteer firefighters who provide protection from fire, life-threatening emergencies and dangerous conditions through a team approach in regards to fire protection, fire prevention and public education. The Department provides emergency services in all areas of fire suppression, auto extrication and shoreline water/ice rescue. Although it is our hope that you will never need to use our emergency services, our trained professional team is fully prepared to respond quickly and courteously to your call for assistance. It is our goal to be a respectful and effective fire department that fosters a high level of training and efficient response to all calls. We will continue to proudly serve the Township of the North Shore and will maintain open communications within the department with other town services, organization and mutual aid department.
Our Fire Prevention activities include an annual home smoke alarm inspection program, public education in area schools, residential, industrial and commercial inspections upon request and complaints.
We are proud to be residents of the Township of the North Shore and even prouder to protect and serve our community.
We are currently accepting applications.