Local Business Support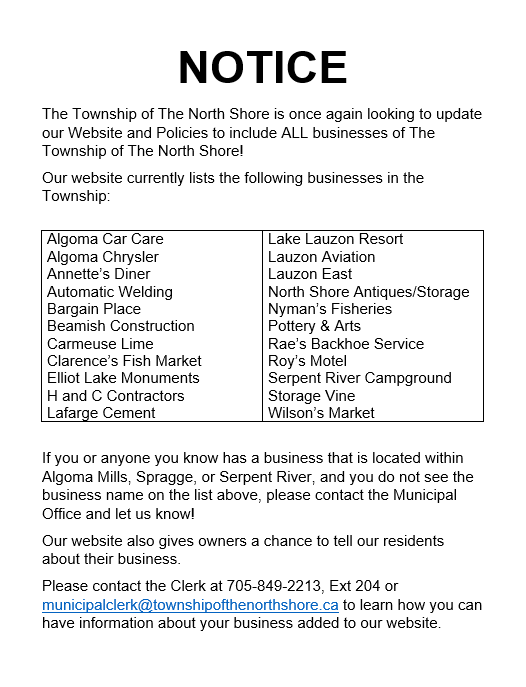 The Township of the North Shore will attempt to support local businesses.
The Township of the North Shore will attempt to utilize local businesses for general purchases and services wherever possible.
List of Businesses:
Algoma Car Care
Algoma Chrysler
Annette's Diner
Automatic Welding
Bargain Place
Beamish Construction
Carmeuse Lime
Clarence's Fish Market
Elliot Lake Monuments
H and C Contractors
Lafarge Cement

Lake Lauzon Resort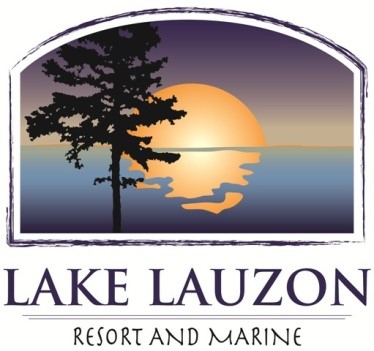 Contact information:
1479B Hwy 17, Algoma Mills, ON, P0R 1AO
Contact person: Sharon Provencher
705-849-0007
www.lakelauzonresort.com
lakelauzonresort@gmail.com
Lake Lauzon Resort and Marine offer accommodations, dock & boat rentals, and non-motor boat rentals on
the shores of Lake Lauzon with swim and boat launch areas.
RV Park – services include water, hydro, internet for all, and sewage for some
Guest rooms – Suite with two guestrooms and Ensuite with one guestroom
Cottages - five one bedroom cottages with two queen beds; one two bedroom cottage with three queen beds
Bunkie on the dock with one queen bed
Houseboat with two queen beds
Sleeper with five double beds
14, 16, and 18 foot boats; pontoon boat and pontoon barge
Canoes, kayaks, stand up paddle boards, floating lounges, lawn games
Hours of operation – seasonal sun rise to sun set during summer months.
Cottages and Guest rooms are currently available year round.
Lauzon Aviation

Lauzon East


Contact Information:
1055 Bayview Lane, Algoma Mills, ON P0R1A0
519-949-1052
lauzoneast.com
lauzoneast@gmail.com
facebook - @lauzon.easthc
instagram - @lauzon.east
Lauzon East is a 4 season cottage rental business located on Lauzon Lake just outside of Algoma Mills Ontario.
With 43 acres of property, Lauzon East offers approximately 900 feet of water frontage onto Wettlaufer Bay,
which connects to Lake Lauzon. This includes a public launch boat ramp just 30 seconds up the road, housekeeping
cottages, staff on site 24/7, UV filtered water, dock for your boat, and access to the snowmobile/ATV trail.
Each cottage is fully furnished and has its own complete kitchen, fresh linens and towels, large windows, personal deck
and fire pit. FREE access to canoes and a paddle boat. Boat rental available to renters with a boating license.
Lauzon Property Maintenance
Dave Drake owner and operator of Lauzon Property Maintenance is servicing the North Shore of Lake Huron.
Services provided including but not limited to:
- Weekly and Bi-weekly lawn maintenance
- Spring and Fall property clean up
- Tree removal and brushing
- Garbage removal
- Seasonal dock servicing
- Seasonal cottage opening and closing
Contact us:
Lauzonpropertymaintenance.ca
Dave (705)849-7754
Claudia (705)849-3523
North Shore Antiques/Storage

North Shore Mechanical Services



Contact Information:
Glenn Gauler
1403 Lauzon Village Road, Algoma Mills ON P0R 1A0
705-929-4405
northsmsinc@gmail.com
"North Shore Mechanical Systems Inc. is owned and operated by a fully licensed Red Seal 313A HVAC/R Journeyman
mechanic with G1 gas license. I have extensive years experience and knowledge of residential, commercial, and industrial
building systems and controls for numerous applications.
Although my primary focus is your safety, I excel in client care and communication with attention to quality repair and timely service."
Nyman's Fisheries
Pottery & Arts
Rae's Backhoe Service

Roy's Motel
Contact Information:
4377 Hwy 17, Spragge ON P0R1K0
705-849-2482
4 Season Motel
Kitchenettes Available
Nightly/Monthly Units
Open 24 Hours
Serpent River Campground
Storage Vine
Wilson's Market